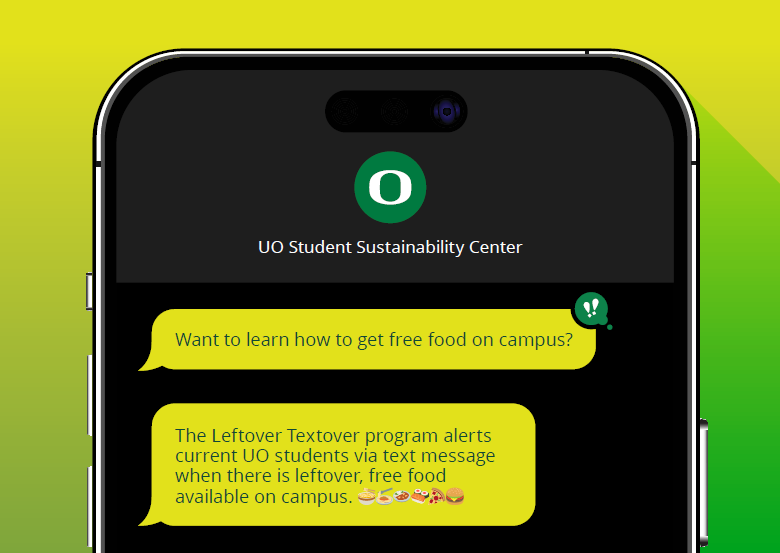 Leftover Textover is a collaboration between UO GIS and Mapping Services, UO Catering, and the UO Student Sustainability Center. The program alerts students via text message when food leftover from events is available on campus. Leftover Textover helps reduce food waste on campus while providing students with free food!
How Leftover Textover Works
Leftover Textover is for campus events with food from UO Catering where there is excess food. These events are predetermined by UO Catering. 
Students who opt-in to the program will be sent a text 15 minutes in advance of the leftover food being set out, with a location link provided on the UO campus map. Students should be sure to arrive at the event with a container to take food with them.
Current UO students can sign up online for the Leftover Textover program.
Want to donate your UO Catering leftovers to Textovers? Contact UO Catering directly.
---
Leftover Textover Student Org Pilot Program
Leftover Textover is expanding! The Leftover Textover Student Org Pilot Program will allow student groups to broadcast a message to fellow Ducks about leftover food from student events. As of now, this is a pilot program specific to the EMU and the O-Desk (located on the ground floor of the EMU).  
Student Org Leftover Textover Checklist
Do you have food leftover after an event in the EMU? Go through this checklist to see if your food will work for the Leftover Textover program!
Do you have a small to medium amount of food left? 

Can the food fit on one half of the O-Desk? 

Is it easy to transport?

Think pizza boxes, Chipotle serving bowls, packaged sandwiches/snacks. 

Is it food safe? 

Food cannot be homemade (it needs to come from a licensed business). 
Food must have been out for less than 4 hours.

Will someone from your group stay at the O Desk until all the food has been taken? 
Will someone from your group properly dispose of the food containers when the food is gone? 
If you answered "yes" to all of these questions, then you can take your food to the O-Desk for the Leftover Textover Easy Button! 
If you answered "no" to any of these questions, then Leftover Textover is not an option.
Please note that some students might not have food containers when they come to grab food, and the O-Desk will not have or provide to-go containers, plates, or napkins. How they transport the food will be up to the student.  
If you have questions about the Student Org Leftover Textover Pilot Program, please reach out to the SSC at uossc@uoregon.edu.