STUDENT SUCCESS
The Erb Memorial Union (EMU) is the heart and hearth of the University of Oregon. We support our campus community with a freshly remodeled facility, incredible programs and outstanding services. As part of the Division of Student Life, we work hard to ensure that every visitor has a positive experience. The EMU is proud to contribute to student success at the University of Oregon, and we do so by collaborating with a wide variety of partners on campus and throughout the community. Through our programs and services, the EMU helps students become well educated, socially responsible, and career ready while having an excellent experience at the University of Oregon.
A place for everyone.
---
Place-Based Belonging and Connections: Favorite EMU Places
In order to explore how they use the Erb Memorial Union, students were surveyed in spring of 2018. This report summarizes their favorite places in the EMU, including follow-up responses based on their selections.
Laughton Elliot-DeAngellis, Psychology, 2016
Laughton worked at the Outdoor Program for three years while earning his degree, and he credits that experience with helping him land a job as the Safe Routes to School Coordinator at Springfield Public Schools. "Knowing who or what organization to engage to support your work, being able to describe your work to a stranger in a meaningful way, and the ability to plan, track, and move forward a variety of projects on a long-term timeline—these are the skills that I continue to use on a daily basis thanks to my work with the OP."
Audrey Gloss, Marketing, 2014
Audrey came to her job in the Ticket Office with a love of basketball and a knack for marketing. Through her four years selling tickets to events, she also gained experience in customer service, time management, and interpersonal communication. She combined her academic work, job experience, and personal passions to launch her career with a group ticket sales marketing position with the Phoenix Suns. 
Angie Stapleton, Public Administration, 2018
While working on her masters, Angie was the food security coordinator at the Student Sustainability Center. She was part of the team that brought the Oregon Hunger Task Force listening session to campus in 2018 and was a tireless advocate on the UO's food security task force. After graduation, Angie accepted a position at the Portland-based Partners for a Hunger Free Oregon, where she develops resources, trainings, and events for the Supplemental Nutrition Assistance Program at Portland Community College and Portland State University.
On the job
We know participating in EMU programs offers learning opportunities that set UO students up for success. For those who choose to take it one step further as a student employee, the hands-on, meaningful work experience our programs provide can change their life. As the job market gets more competitive for college graduates, our student employees are gaining the skills they need to find their niche and flourish in their chosen career.
The EMU currently employs
322
students
EMU retail sales topped
$7M
More than
33.8K
event tickets sold
More than
123K
hours to space commitments
OUR NEW BUILDING
The EMU renovation and expansion was built upon the concept of environmental design, and how space can impact behavior and campus culture. The expansive, three-story Student Atrium's south-facing wall of windows lets in lots of natural light and connects visitors to the outdoors. Chairs and couches are plentiful, and provide comfortable places to study or visit. And just as there are big and bright spaces throughout the EMU, there are likewise cozy dens tucked away to encourage rest and relaxation. Nap spaces under stairwells beckon students after pulling all-nighters. The O Lounge, with booths and interactive TV screens, is a perfect place for classmates to plug in their devices for informal study groups. 
For organized gatherings, multiple meeting rooms are available with screens and projectors, adding to the "center of campus" purpose of the EMU. These spaces are also available for public conference use, which generates income and helps reduce reliance on student fees.
A place designed for student success.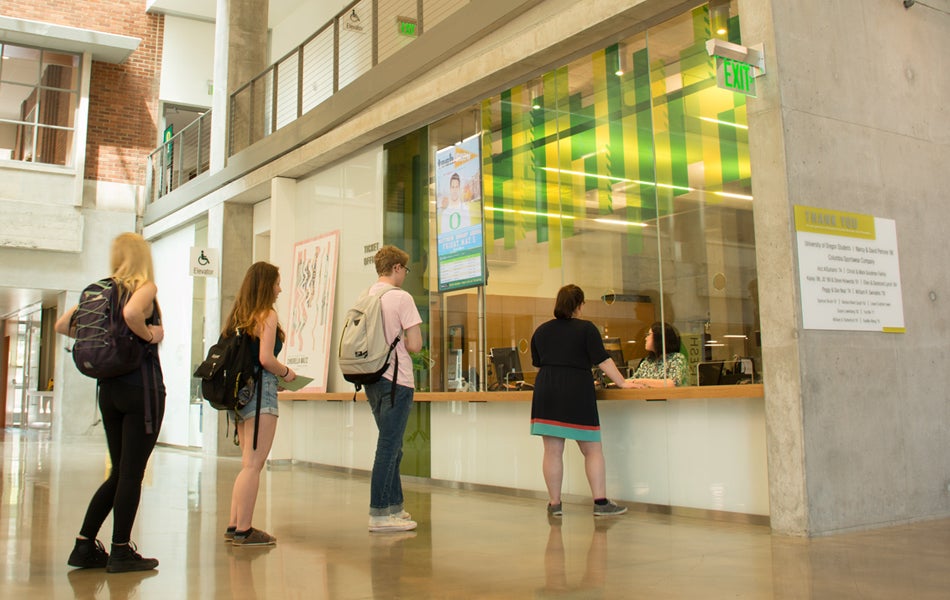 Your Community
People, programs, places, and spaces—they all add up to community. Community that provides a sense of belonging for students, alumni, faculty, and staff. A place to feel a part of, and always want to return. A place where pleasant surprises happen. A place that gives each student confidence to try new things and to become the person that they want to be, a place that complements and encourages education… that's the EMU, the heart of campus.