Idea of a Student Union (1923). Students first began advocating for a student union at the University of Oregon in 1923. Funding issues, changes in leadership, and two world wars delayed the design and construction for 25 years. Meanwhile, student life at the University of Oregon continued to evolve.
University of Oregon joins ACUI (1942). In anticipation of the building of a student union, the UO became a member of the Association of College Unions International, and in 1947 Richard C. Williams was selected to be the director of the soon-to be built student union.
Original Building (1950). Erb Memorial Union. Architect: Lawrence and Lawrence. Design work began in January 1945 on the long-desired student union. Plans were initially developed by H. Abbott Lawrence, son of Ellis F. Lawrence, who briefly held the partnership Lawrence and Lawrence until Ellis Lawrence's death in 1946. Design work ended by August 1948. Early concepts included a high-rise hotel. Construction began in October 1948 and ended in 1950. Planned for 25 years, Lawrence, Tucker and Wallman revised the plans after Lawrence's death. The building was named for Donald Erb, UO war-time president who died in office in December 1943, at age 43. It also commemorated members of the UO community and graduates who served during the war. One of the remarkable aspects of the EMU was the midcentury-modern curvilinear design of the glass wall at the Fishbowl that distinguished the EMU from other student unions that had come before it.
Recreation Center (1950–2013). Originally configured as a bowling alley and billiards area, the space continued to morph with students' wants and needs. Video games were added and in 1985 the bowling alley was converted to a computer lounge. The remaining space was converted to a pizza pub in the 2014–2016 renovation.
Southeast Addition (1962). A new dining area, enclosed patio, and four meeting rooms were added to help meet the needs of a growing campus population.
Club Sports Program (1963-64). What began as an Outdoor Recreation Council was founded with seven clubs: rugby, skiing, cycling, hiking, scuba, soccer, and judo. Many of those clubs still exist and compete regionally and nationally!
Outdoor Program (1967–68). The Outdoor Program evolved from the practice of students posting notes in the EMU looking for rides and adventure sharing. Learn more about OP history. 
Moss Street Children's Center (1970). An ASUO resolution established the need and funding for a daycare center to meet the needs of student parents at the University of Oregon. This later became Moss Street Children's Center.
Cultural Forum (1972-2014)
Mills International Center (1974). Began as an international lounge, then became the International Resource Center in 2000 and ultimately became the Mills International Center in 2000. The center is named after its founder and chief proponent, Tom Mills. Learn more about Mills International Center history.
Craft Center (1974). The Craft Center started with the hiring and arrival of the original director, Tom Urban. He showed up to an empty space and proceeded to create a center that has changed and grown over time to what we currently know as the EMU Craft Center. Throughout the years, the Craft Center has grown and changed to reflect student interests and needs. In the early years space was limited and offerings were more traditional, but by the early 1980s the Craft Center proved to be a highly successful EMU program and along with its success came growth. Expansion of both space and offerings reached its peak with 2007 with the introduction of hot glass and the renovation of the current space in 2014, both guided by Dianne Hoffman, the Craft Center director who replaced Tom Urban upon his retirement. The center currently consists of eight studios: ceramics, glass/fabrication, woodworking, jewelry/small metals, photography, fibers, printmaking and painting.
East Addition (1973; demolished 2014). Architect: Coburn and Sheldon, Lutes and Amundsen. As described in Style and Vernacular (below): "The quiet elegance of the original building is a good foil to the exuberant addition with its skylighted, promenade ramp and lively detailing... The diagonal path under the building forms a gateway linking the active central campus with the interior residence lawns to the south and east."
Interior Renovation (Fishbowl) (1980). The space continues to be used as a primary student gathering spot, and is infamous as the place that the food fight from Animal House was filmed!
Ballroom Area Alterations (1986)
KWVA Radio (1991)
Amphitheater and Food Services Renovation (1998). Landscape architect: Cameron McCarthy Gilbert and Scheibe. Project planner: Fred Tepfer. Manager: Garry Fritz. Initiated by ASUO to commemorate that organization's 100th anniversary, this project created an amphitheater and stage. Its design involved strong involvement with user groups of students, faculty members, and staff. The "free speech plaza" was long envisioned as part of the EMU's features and this project restored that concept which alterations after the 1950 original design impeded.
Ticket Office (late 1990s). Originally developed in concert with UO Scheduling, the UO Ticket Office came into its own in the late 1990s/early 2000s as event and performance fundraising needs expanded across campus. The Ticket Office steadily grew into a full-service sales and ticketing outlet for UO and Eugene-Springfield performing arts communities. In 2018, the Ticket Office also became a U.S. Passport Acceptance Facility, expanding campus services for students and the public on their adventures at home and abroad.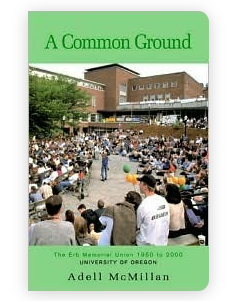 A Common Ground (2000). The Erb Memorial Union celebrated the 50th anniversary of its dedication on November 5, 2000. This history was written by former EMU Director Adell McMillan to commemorate 50 years of union programs and activities, union governance, the building and its additions, renovations and restorations, and the individuals—students, faculty and staff—who made this center of the campus community a vibrant and exciting place. Additionally, the book provides a historic context and covers the earlier history of the attempt to build a student union at the University of Oregon prior to its final completion in 1950.
Center for Student Involvement (2013). The Center for Student Involvement was created from students' passion and desire to increase event offerings at the UO. The center created an intentionally robust calendar of activities that provided students with events at every comfort level and representing many interests. Events have given students opportunities to make friends, reduce stress, learn about the world, experience new things, and find themselves. In addition to a new calendar of events, a new space was built in the 2016 EMU renovation that allowed for base level student organization services to have a home.
Many Nations Flag Project (2014). Landscape architect: Cameron McCarthy. This student-led initiative brought the flags for the nine federally recognized tribes of Oregon to be permanently placed in the EMU Amphitheater.
Renovation and Construction (2014–2016). Architect: SERA. Construction GM: Lease Crutcher Lewis. East addition (demolished in 2014) was replaced with a new east wing. This $99-million project produced a LEED Platinum, fully accessible, state-of-the-art facility housing student organizations, student programs, and meeting space. Connections to the original 1950s building were reestablished and enhanced. The original building was completely remodeled, and HVAC systems were updated. Food service areas were completely reimagined, the Ballroom was renovated, and the EMU Green was established.
Student Sustainability Center (2016)
Esports (2018). In the span of about three years, the Esports Program went from being recognized as a student club to having a PC lounge for competitors and casuals alike, six competitive teams, sponsored jerseys, and so much more. Learn more about Esports history.
Mills International Center (2022). The Mills International Center serves all UO students, international and from the United States, as a place of belonging and cross-cultural learning. Founded by the Office of International Programs in 2000–2001, the Mills Center joined the EMU reporting line for Student Union Programs in 2022.