Original Building (1950). Erb Memorial Union. Architect: Lawrence and Lawrence. Design work began in January 1945 on the long-desired student union. Plans were initially developed by H. Abbott Lawrence, son of Ellis F. Lawrence, who briefly held the partnership Lawrence and Lawrence until Ellis Lawrence's death in 1946. Design work ended by August 1948. Early concepts included a high-rise hotel. Construction began in October 1948 and ended in 1950. Planned for 25 years, Lawrence, Tucker and Wallman revised the plans after Lawrence's death. The building was named for Donald Erb, UO war-time president who died in office in December 1943, at age 43. It also commemorated members of the UO community and graduates who served during the war.
Southeast Addition (1962).
Outdoor Program (1967–68). The Outdoor Program evolved from the practice of students posting notes in the EMU looking for rides and adventure sharing. Learn more about OP history. 
East Addition (1973; demolished 2014). Architect: Coburn and Sheldon, Lutes and Amundsen. As described in Style and Vernacular (below): "The quiet elegance of the original building is a good foil to the exuberant addition with its skylighted, promenade ramp and lively detailing... The diagonal path under the building forms a gateway linking the active central campus with the interior residence lawns to the south and east."
Interior Renovation (Fishbowl) (1980)
Ballroom Area Alterations (1986)
Amphitheater and Food Services Renovation (1998). Landscape architect: Cameron McCarthy Gilbert and Scheibe. Project planner: Fred Tepfer. Manager: Garry Fritz. Initiated by ASUO to commemorate that organization's 100th anniversary, this project created an amphitheater and stage. Its design involved strong involvement with user groups of students, faculty members, and staff. The "free speech plaza" was long envisioned as part of the EMU's features and this project restored that concept which alterations after the 1950 original design impeded.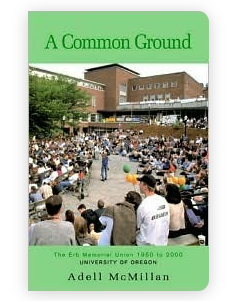 A Common Ground (2000). The Erb Memorial Union celebrated the 50th anniversary of its dedication on November 5, 2000. This history was written to commemorate 50 years of union programs and activities, union governance, the building and its additions, renovations and restorations, and the individuals—students, faculty and staff—who made this center of the campus community a vibrant and exciting place. Additionally, the book provides a historic context and covers the earlier history of the attempt to build a student union at the University of Oregon prior to its final completion in 1950.
Many Nations Flag Project (2014). Landscape architect: Cameron McCarthy. This student-led initiative brought the flags for the nine federally recognized tribes of Oregon to be permanently placed in the EMU Amphitheater.
Renovation and Construction (2014–2016). Architect: SERA. Construction GM: Lease Crutcher Lewis. East addition (demolished in 2014) was replaced with a new east wing. This $99-million project produced a LEED Platinum, fully accessible, state-of-the-art facility housing student organizations, student programs, and meeting space. Connections to the original 1950s building were reestablished and enhanced. The original building was completely remodeled, and HVAC systems were updated. Food service areas were completely reimagined, the Ballroom was renovated, and the EMU Green was established.