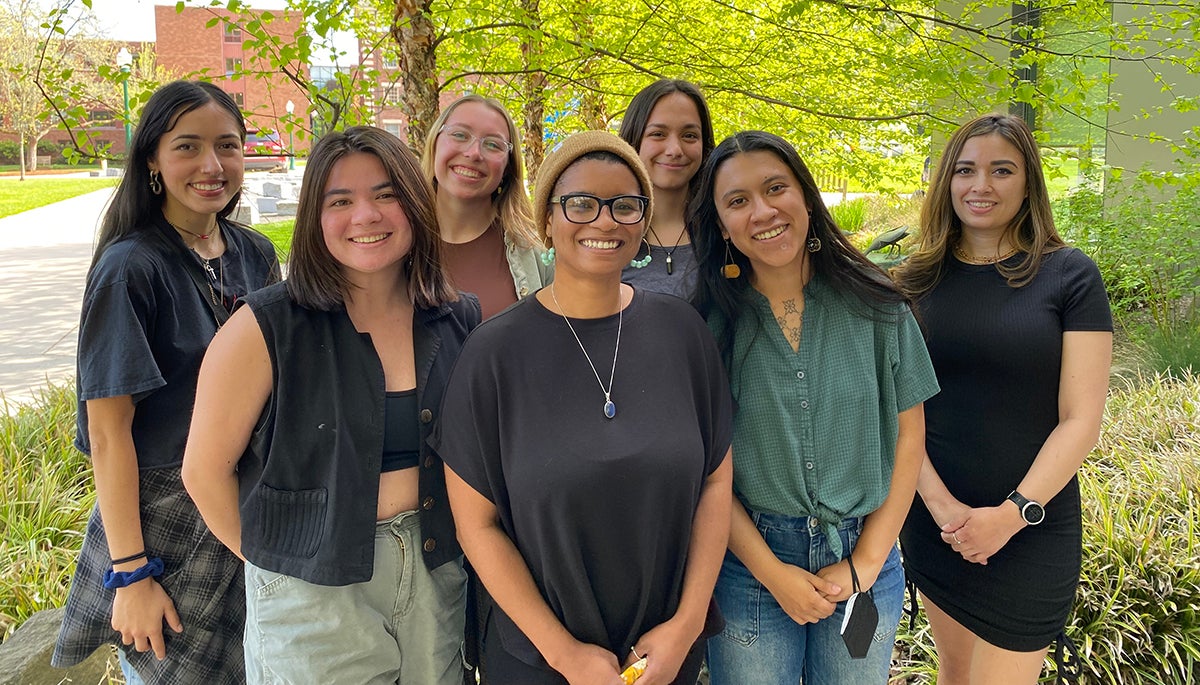 2022–2023 Fellows (left to right): Jess Gladis, Eloise Navarro, Abbey Gravatt, Zoë Gamell Brown, Miriam Yousaf, Polet Campos-Melchor, Rose Poton (not pictured: Maya Revell, Estrella Soto)
---
As part of the Just Future Initiative at the University of Oregon, the Student Sustainability Center is excited to launch the Environmental Justice Fellows cohort, in collaboration with Holden Center's new Emerging Leadership Project. The fellowship awards $1,500 to students dedicated to helping their communities by becoming environmental justice leaders.
Upon completion of the EJ Fellow's environmental justice project, EJ Fellows will present their work to the campus community via a public presentation on campus. They will also be expected to help recruit the next year's cohort.
How to Apply
Students are required to apply to the Emerging Leadership Project training and complete the supplemental application for the Environmental Justice Fellows. The supplemental application includes three additional questions about the importance of environmental justice, the applicant's commitment to the program and environmental justice principles, and a broad beginning of an idea for a community service project related to environmental justice. Priority will be given to applicants with an existing, demonstrated involvement with a community partner, though this is not necessary.
Apply for the 2023–2024 Cohort
Emerging Leadership Project and Distinguished Fellows Options
There are two categories of Environmental Justice Fellows: the Emerging Leadership Project sub-cohort of EJ Fellows, and the Distinguished Fellows.
Emerging Leadership Project Sub-Cohort
EJ Fellows will receive a $500 stipend for taking part in the Emerging Leadership Project and additional Environmental Justice workshops during the spring, winter and fall quarters. Students will also receive a $1,000 stipend for completing a community project related to environmental justice. 
As part of the program, students will also have access to up to $1,000 for their community projects, which can include compensation to the community partner they are working with and/or project supplies. 
Finally, $1,000 of additional funding is available to faculty advisors who commit to working with an EJ Fellow.
EJ Fellows will complete the full Emerging Leadership Project training as well as additional environmental justice focused workshops throughout the term. This work can be aligned with a student's academic interests and pursuits, including work on a thesis or terminal project.  
Louise "Molly" Westling Distinguished Fellows
The Westling Fellowship is named in honor of Professor Emerita Louise "Molly" Westling, a visionary at the UO and the fields of environmental humanities, environmental literature, and environmental justice.
Westling Fellowships are awarded to fellows who demonstrate exceptional vision, preparation and support from faculty advisors.
Westling Fellows can serve as mentors and resources for other fellows in lieu of participating in the Emerging Leadership Project workshops. A separate application is required that explains the candidate's previous engagement and/or training with environmental justice, provides a brief overview of their proposed project, and demonstrates pledged support from an academic advisor to help the fellow see their project to completion.
Westling Fellows receive the full $1,500 stipend, up to $1,000 in project funds, and $1,000 for their faculty advisor. They are not required to take part in the Emerging Leadership Project workshops, though they are welcome to do so.
Apply for the 2023–2024 Cohort
What Do Fellows Receive? 
Compensation for their Work and the Needs of Their Communities — EJ Fellows will receive: a $500 award for participating in the Emerging Leadership Project and Environmental Justice workshops; a $1,000 award for their community project; up to $,1000 in project funds and/or funds for their community partner. Faculty members who support EJ Fellows can also receive $1,000 for their work with EJ Fellows.
Environmental Justice Training — Through a series of workshops, EJ Fellows will enhance their understanding of the principles and histories of Environmental Justice. Fellows will be able to turn their knowledge into action by creating and carrying out a service project that directly impacts their community and helps redress environmental injustices.
Benefits of the Emerging Leadership Project
Leadership Skill Development: This program is designed to develop students' leadership skills through intentionally crafted workshops and experiential application. During the program, the cohort takes a deep dive into exploring strengths, identities, and passions and how they intersect with leadership. We also teach tangible leadership skills, such as facilitation, conflict resolution, inclusive practices, and much more.
Direct Service Experience: By the end of the program, students will have designed and implemented a service project related to the student's interests that directly benefits our local community. To assist students in this process, the SSC provides one-on-one mentorship, helping students make connections with community partners, and share valuable project management skills.
Career Readiness: The Emerging Leadership Project has been designed to help students develop the skills most sought after by employers, such as problem-solving, leadership, teamwork, communication, and more. Before students finish the program, we work with them to help craft impactful application materials that best highlight their skills and experiences.
Community and Connections: Students spend a year together as a cohort, allowing them to build genuine and long-lasting friendships. Additionally, this program helps students make valuable networking connections with UO staff and community members.
Environmental Justice Fellows Program Goals
Empower and compensate students from frontline communities to engage their communities seeking environmental justice and just futures
Redress environmental injustices by connecting frontline communities and their students to the resources, knowledge, and expertise of the University of Oregon
Center the needs of frontline communities through collaborative project design
Support student activism and community engagement
Extend learning beyond the classroom by connecting relevant coursework to the lived realities of communities experiencing environmental injustice
Educate the broader campus community about the experiences of frontline communities, their expertise and knowledge 
Have Questions?
Contact Dr. Taylor McHolm, director of the Student Sustainability Center, at tmcholm@uoregon.edu or call 541-346-8321.
---
2022 Cohort
Louise "Molly" Westling Distinguished Fellows
Westling Fellowships are awarded to fellows who demonstrate exceptional vision and preparation. The Westling Fellowship is named in honor of Prof.  Emerita Louise "Molly" Westling, a visionary at the UO and the fields of environmental humanities, environmental literature, and environmental justice.
Westling Fellows can serve as mentors and resources for other fellows in lieu of participating in the leadership workshops.
Maya Revell (she/her)
Maya is a first-year PhD student studying environmental studies, science, and policy with a focal concentration in critical and sociocultural studies in education.
She is interested in exploring alternative paradigms for environmental education research and centering Black Ecological Thought. Through the Environmental Justice Fellowship Program, Maya plans on working with Dr. Sarah Stapleton, Eugene School District 4J educators, the West Bethel Community, and Beyond Toxics to develop an environmental justice curriculum for the local K-12 school system. In particular, she would like to engage marginalized youth within these communities and help facilitate youth-designed projects to address environmental injustices.
---
Environmental Justice Fellows
Polet Campos-Melchor (she/her/ella)
Polet is a fourth-year cultural anthropology PhD student and a graduate certificate student in women's, gender, and sexuality studies.
Informed by her time spent in her grandmothers' kitchens in Mexico and California, Polet's research traces Queer Mexican migrant care practices in kitchens. With food mapping and storytelling, Polet's research explores how Queer Mexican migrants articulate practices of care, expanding beyond the imaginary into tangible forms of creating recipes and relations from scratch. For her project, she plans on conducting preliminary dissertation fieldwork with Queer Mexican migrants in Eugene/Springfield on care practices in and out of their kitchens to provide possible roadmaps of healing for past, present, and future generations.
Zoë Gamell Brown (she/her)
Zoë is currently pursuing a concurrent degree with a master's in environmental studies and a doctorate in indigenous, race, and ethnic studies.
Zoë is a Guyanese American integrative artist and researcher, exploring settler colonialism, critical environmental justice, and identity expression in the Guyanese diaspora. Themes in her work revolve around transformative collective care, queerness, sexuality, restorative cartographies, and critical environmental justice. As a part of her master's terminal project, she plans on creating a five-year strategic plan for her nonprofit, Fernland Studios, which reimagines environmentalism through art and education.
 
Jess Gladis (she/her)
Jess is a third-year undergraduate student in the Clark Honors College majoring in environmental studies and minoring in philosophy.
As a fellow, Jess is focusing on expanding her pre-existing research in embodied environmental justice, applying theoretical approaches of hermeneutics and eco-phenomenology as a philosophical lens to lived relationships with the environment in actual praxis. Building on this approach, she hopes to develop research concerning their application to regional environmental problems as a means to generate more holistic solutions.
 
Abbey Gravatt (she/her)
Abbey is a third-year undergraduate student majoring in environmental studies and minoring in food studies and planning, public policy, and management.
Abbey is passionate about food security and food sovereignty and plans to address these issues in her fellowship project. Her interests include exploring seed saving as a means of gaining independence from large monopolies, such as Monsanto-Bayer, as well as the history of seed saving and its significance for different farms and gardens in the Eugene community. Abbey's goal as a fellow is to make a connection between seed saving, more localized and independent food systems, and food security.
Eloise Navarro (she/they)
Eloise is a third-year undergraduate student double majoring in international studies (with a concentration in conflict resolution and peace studies) and Romance languages (Spanish and French). She is also pursuing minors in environmental studies and Latin American studies.
Eloise is passionate about achieving climate justice through community empowerment. They hope to partner with Fossil Free Eugene and their involved organizations to provide a series of trainings and workshops focused on familiarizing community members with various tactics to help achieve climate justice. Her goal is to include workshops on letter-writing and media, art and activism, collective liberation, direct action, and digital organizing. The trainings will provide a way to create reciprocity between local environmental organizations and community members. Community members will have the chance to uplift these organizations' climate efforts while the organizations will provide support and guidance to residents to empower them to take climate action and advocate for their communities.
Rose Poton (she/her)
Rose is a second-year graduate student studying conflict and dispute resolution, specializing in environmental conflicts with an emphasis on water conflicts.
Rose's goal as a fellow is to develop an interactive digital tool supporting communities in visualizing, communicating, and addressing environmental injustices related to water. The project invites community members to be citizen scientists, participating in gathering data and leading the conversation. Data is visualized on maps, identifying locations with current water issues and resources to meet water-related needs. Features would include emergency alerts and preparedness, educational games, conflict assessment/resolution tools, messaging, and other community-specific information. The fundamental focus of the project is on empowering communities and building capacity to address and visualize current environmentally related events from the community lens while improving communication among all stakeholders.
Estrella Soto (they/them)
Estrella is a second-year undergraduate student majoring in environmental science and minoring in food studies.
Estrella is interested in food security, and as a fellow, they plan on supporting and enhancing direct student contact to fresh food from farms. First food cultivation is vital to the work and learning that Estrella does, aiming to improve first food access for Indigenous students while addressing food insecurity across the student body.
Miriam Yousaf (she/her)
Miriam is a second-year undergraduate student majoring in global studies and minoring in environmental studies and planning, public policy, and management.
Growing up in St. Louis, Missouri, she witnessed the inseparable ties between social justice and environmental justice in the Black Lives Matter and Palestinian Liberation movements. Miriam is passionate that all deserve health and dignity in our environment, intending to serve the Eugene community as an Environmental Justice Fellow through collaboration with Beyond Toxics and Eugene Refugee Resettlement Coalition — focusing on combating environmental racism through community organizing. She is interested in approaching global issues, such as climate change and social inequity, at the local level, where community members have the power and agency to advocate for the specific needs of their people.